Earlier this year, a new feature was announced for Microsoft Edge. After an update, Microsoft Edge will now be set to constantly fetch data from Google Chrome.
Some users might be wondering what exactly this means. We're here to walk you through exactly what this means for users of both Microsoft Edge and Google Chrome, what the benefits are, and how you can deactivate this feature if you do not want it to work on your machine.
Follow along for a deep dive into what this means for browser users!
How Does it Work?
The first question that you might have is exactly how this works. Browsers like Microsoft Edge make an attempt to personalize your experience as much as possible. They do this by gathering as much information as possible.
What this means for you if you use Microsoft Edge is that it will be looking for data in Google Chrome's files that could be helpful for it to create a better user experience for you.
What Data Will it Pull?
The feature that is being rolled out will fetch any data that it deems relevant to creating a better user experience. It will pull tabs, history, bookmarks, and other information. It will then use this to make it easier for you to navigate the Microsoft Edge browser and accomplish what you need to do faster.
Benefits of This Feature
There's a lot to love about this feature and for many users, it has been a long time coming. Here are some of the benefits of a feature like this and how it can help you get more out of your browser experience both in Google Chrome and Microsoft Edge.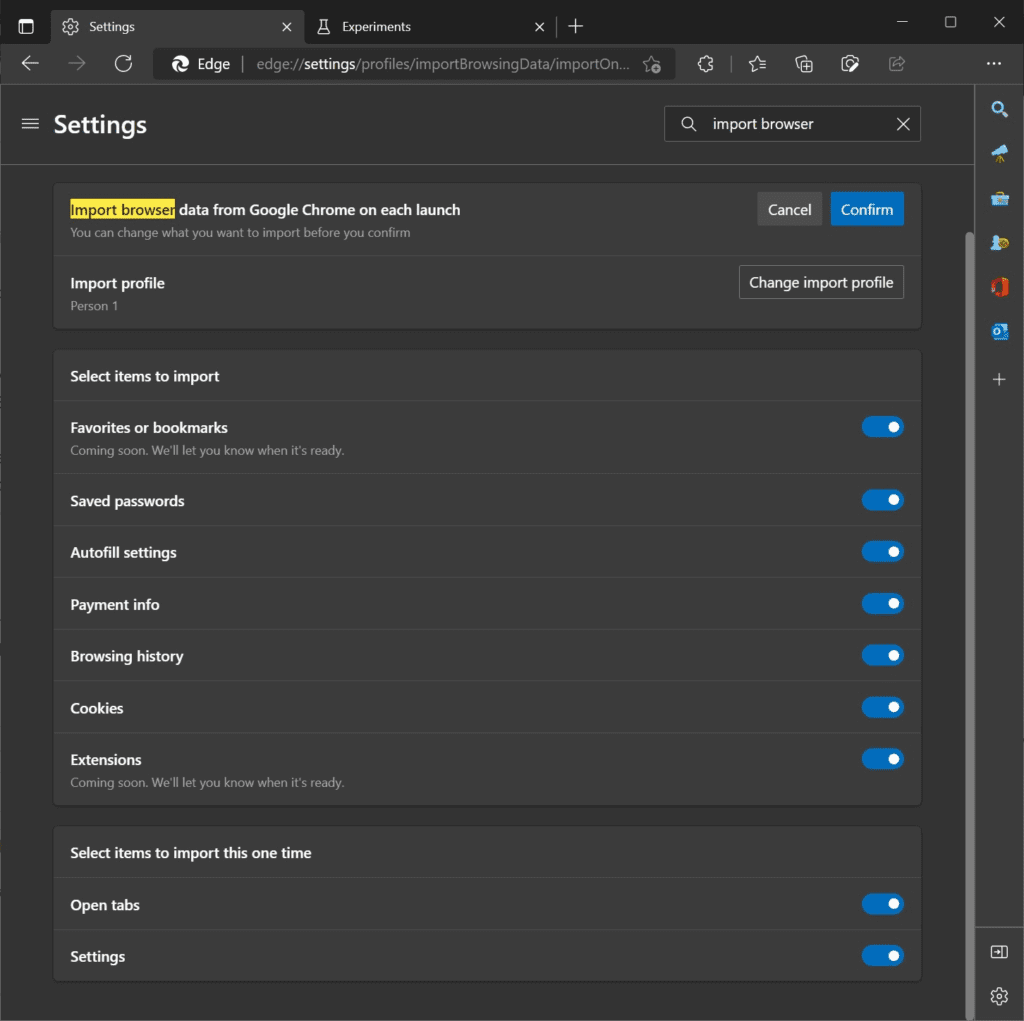 Faster Loading Times
One of the benefits of this feature will be faster load times. Since Microsoft Edge can now import cache data, it can load your frequently visited web pages faster. When you start the Microsoft Edge browser, you won't have to wait as long as you otherwise would for a web page to load. This can save a lot of time.
Cross Platform Bookmarks
Another piece of data that Edge can bring over from Chrome is your bookmarks. Have you ever been frustrated that one browser remembers your bookmarks but another one doesn't have them? This problem can now be solved with these cross-platform bookmarks.
Easier Logins
Another part of your browsing experience that could be made easier by this feature is logins. Now, when you visit a web page that has a saved login from Chrome, you can import it to Edge. This eliminates the need to drudge up all of your old passwords and re-type them.
Switch Between Browsers Easier
In general, switching between browsers will be so much easier. If you have web pages that you like to visit with Chrome specifically or Edge specifically, you can now do so effortlessly.
Edge will import Chrome tabs automatically so that you can quit Chrome and go to Edge whenever you need to. Once again, this ties into making using the Edge browser all the easier.
Does This Put My Data at Risk?
A common concern for people using these browsers is data security. With Edge constantly fetching data from Chrome, you might be naturally inclined to be concerned. After all, we are always hearing about the latest data breach.
Fortunately, this isn't much of a concern with Edge. Edge has a stellar reputation for using end-to-end encryption and ensuring that user data is protected.
How to Disable This Feature
Still not convinced? No worries. Edge has also implemented a toggle setting that can actually allow you to disable this feature, making it easy to opt-out. You can go to the settings of your Edge browser to disable it.
If you ever decide that you want to have the feature after all, then you can always re-enable the feature and gain access to all of the benefits that it has to offer.
Key Takeaways
This feature that Microsoft Edge is rolling out is a highly-anticipated one. Users of Edge have been craving features of this that make the browser more user-friendly and packed with benefits. This should do the trick! Now that you know what Edge has to offer, you can take full advantage of these features!